I found a fun new linky party today. Each Monday, Night Owl Crafting hosts Hoo Are You?, which is a linky party featuring five fun questions. The idea is each blogger participating will post the questions and her answers on her own blog, then link her post back to the original post on Night Owl Crafting. Each blogger is meant to explore the other blogs as a way to get to know other bloggers and link to their websites. This sounds fun to me, so here we go! Week #1 for me!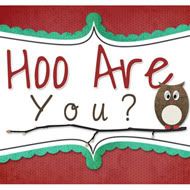 Here are this week's questions!
1. Do you exercise regularly and what do you do?
Umm, no, not official exercise. I wish I did. I can't find the time (as I sit here blogging)! But I do run around all day after a toddler, and soon, I'll be running around after two kids, so I think I'll do my heart some good that way.
2. Do you have any weird sleeping habits?
At 38 weeks pregnant, yes! I require many pillows just to be comfortable. There's an hourly switch from left side to right side, and so most of the night is spent turning over and over.
3. How often do you vacuum?
I should do it way more often, but Luke hates the vacuum, and I simply find it difficult to do it at a time when he's not home. It's rare for me to be home without him.
4.Do you accessorize and if so what is your favorite thing to accessorize with?
I don't accessorize much, but I do love scarves. I have a ton of them, and could always use another!
5. What is your favorite drink during the summertime?
I LOVE margaritas, but right now, that's not an option. Lemonade or virgin margaritas (complete with salt on the rim) is a nice substitute. I also really love fresh-squeezed orange and lemonade. Yum!